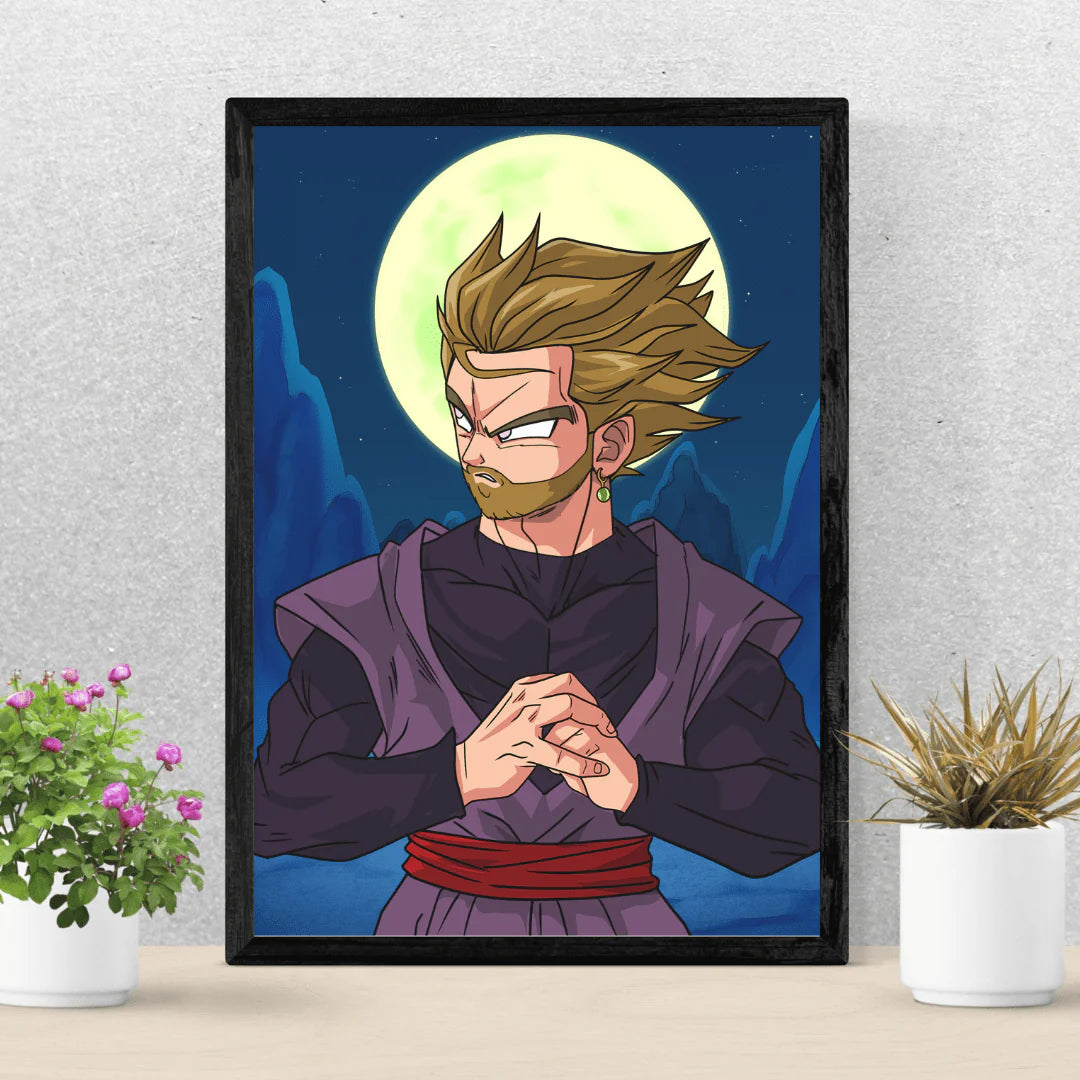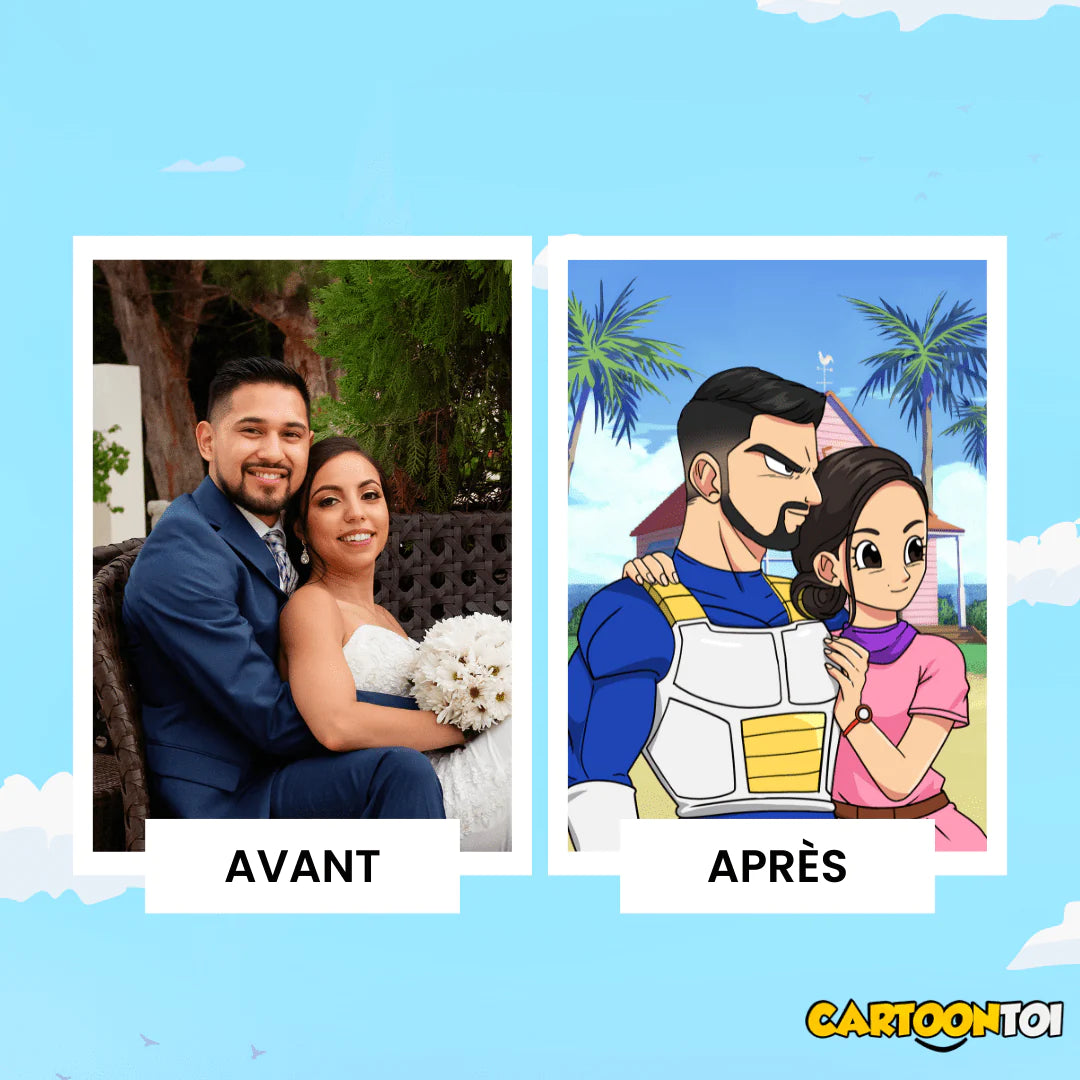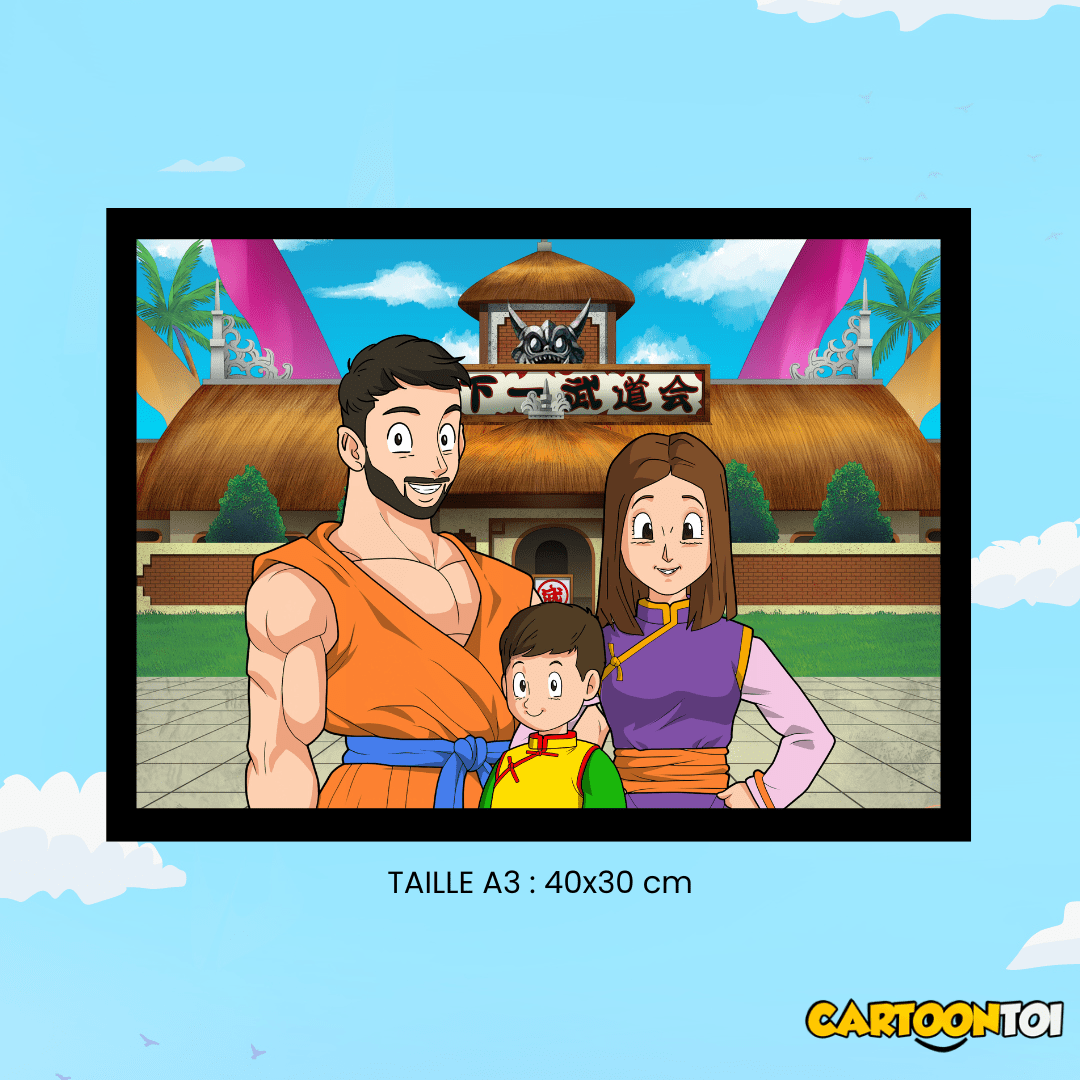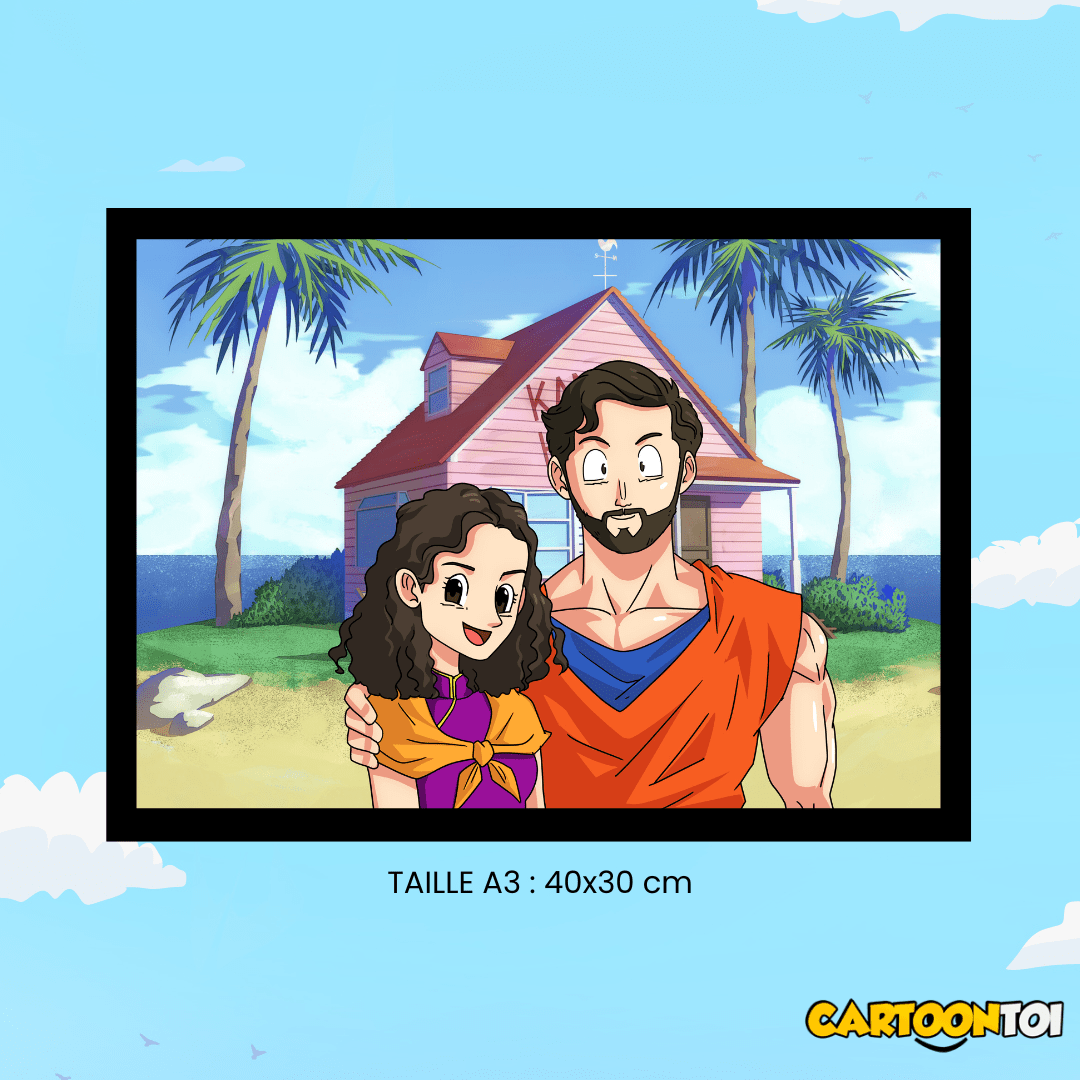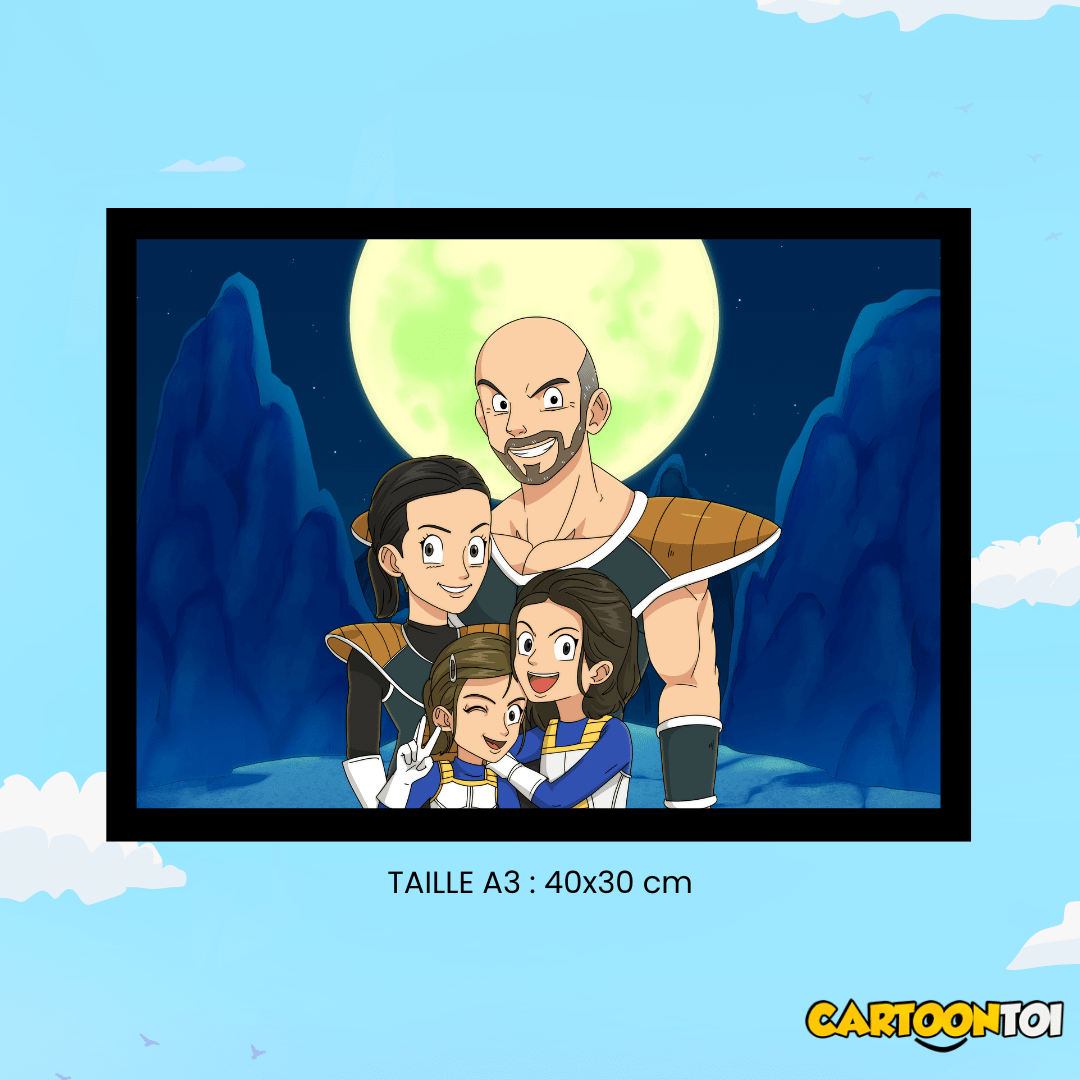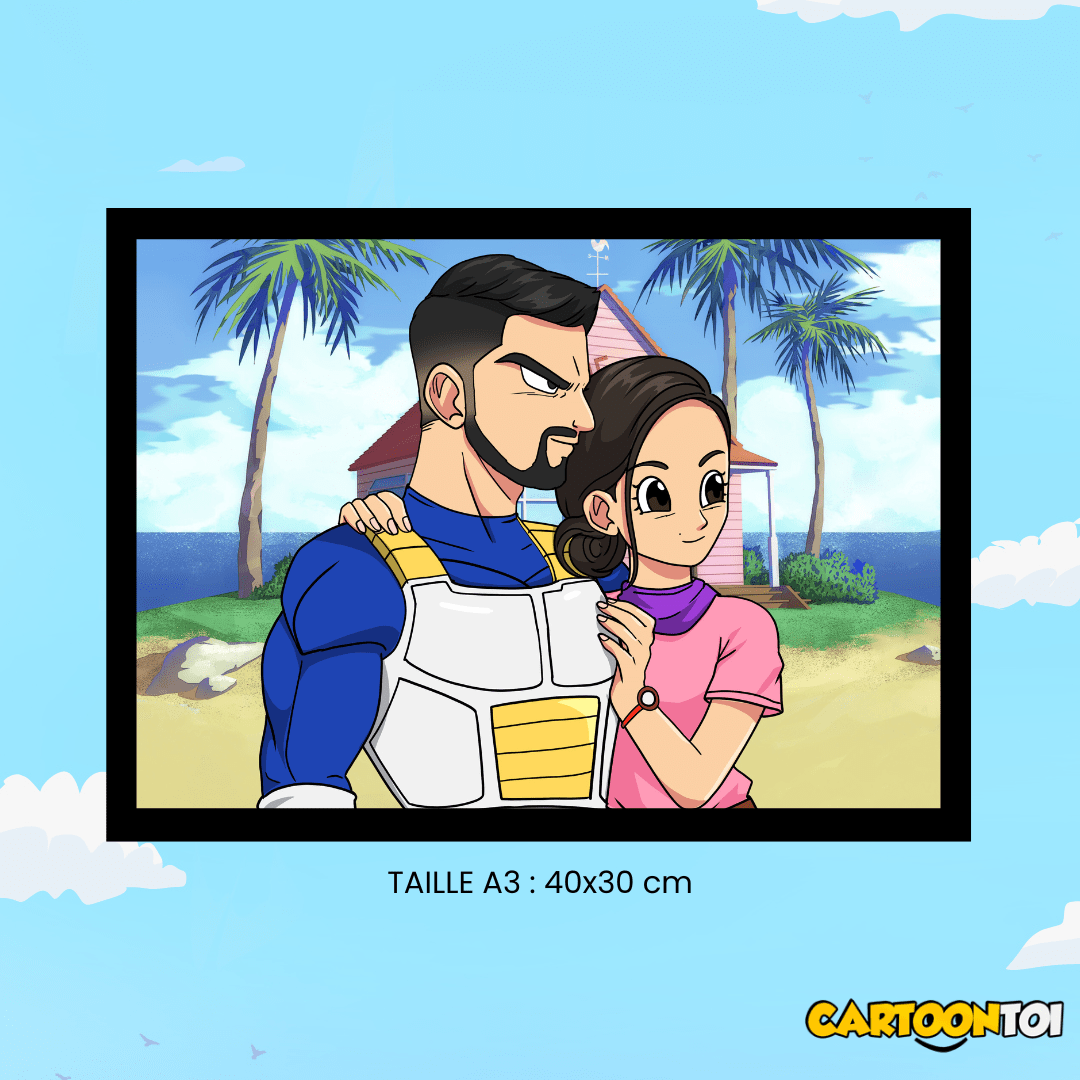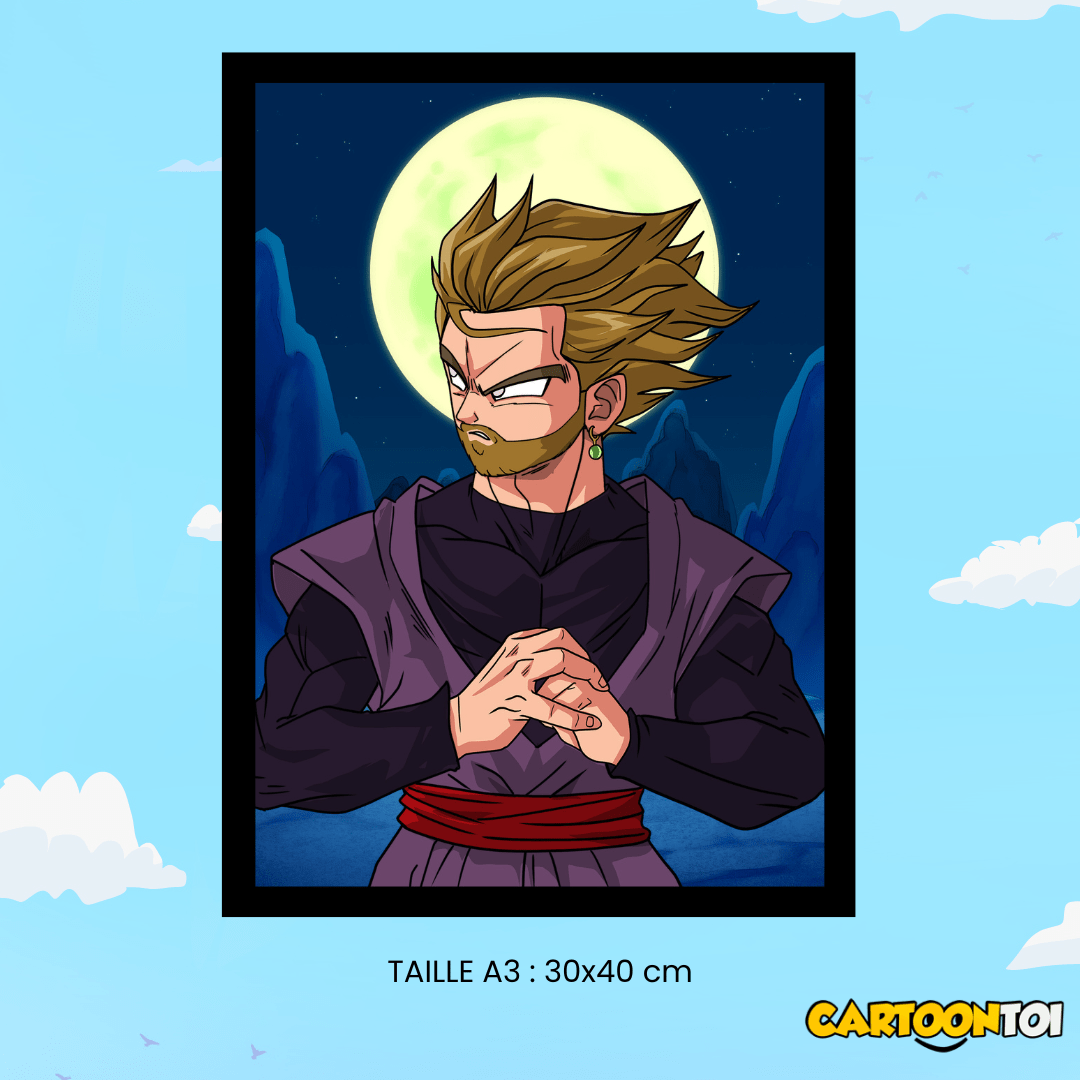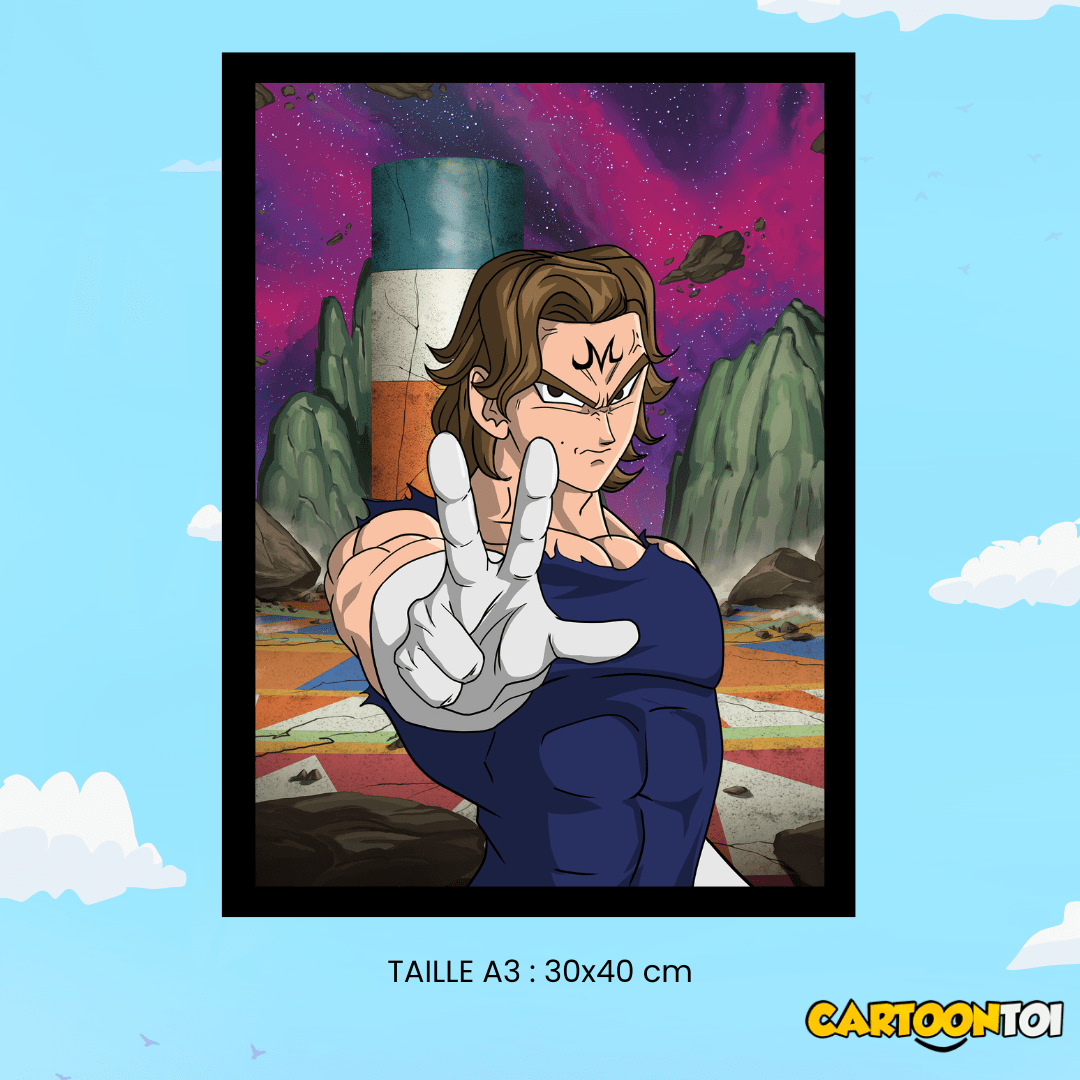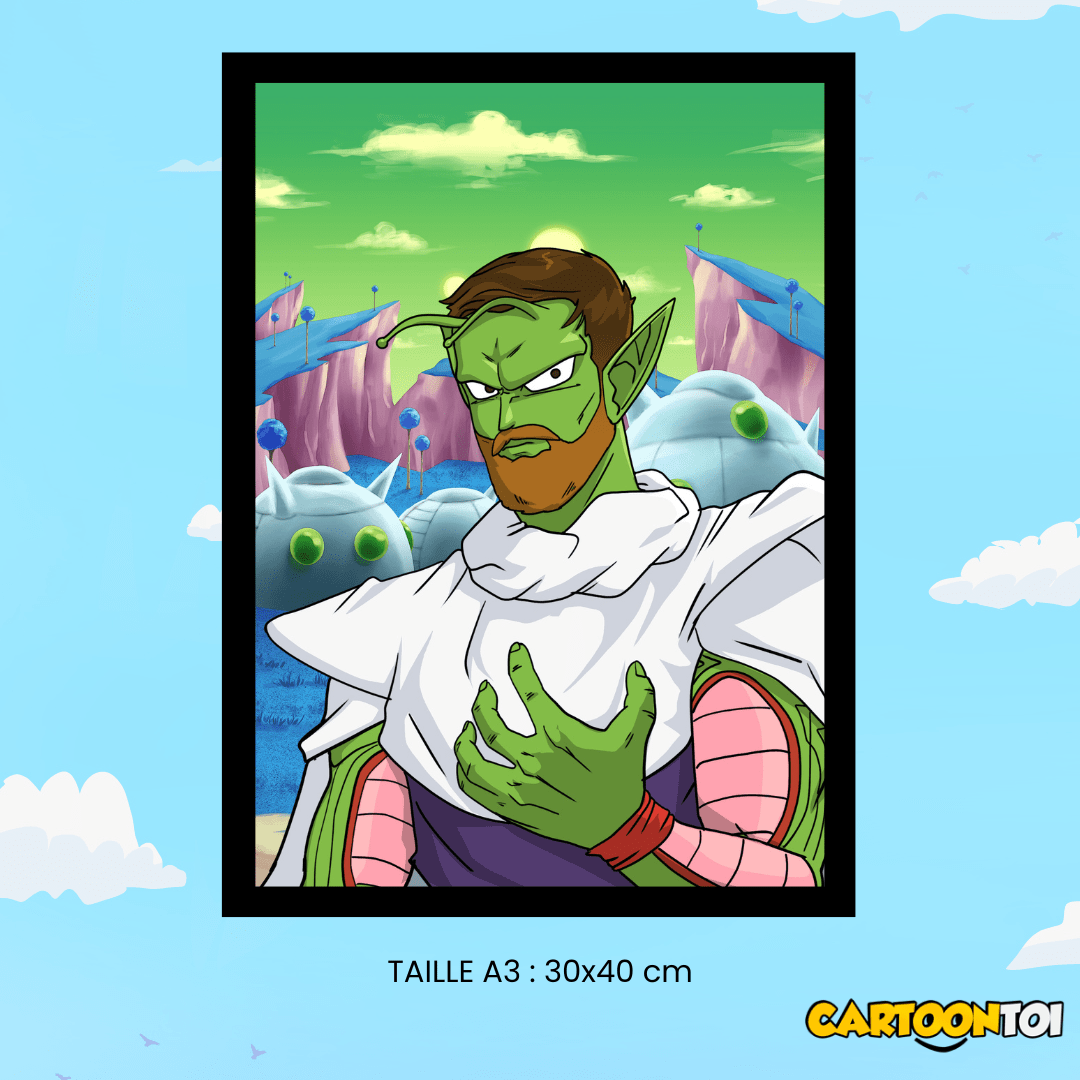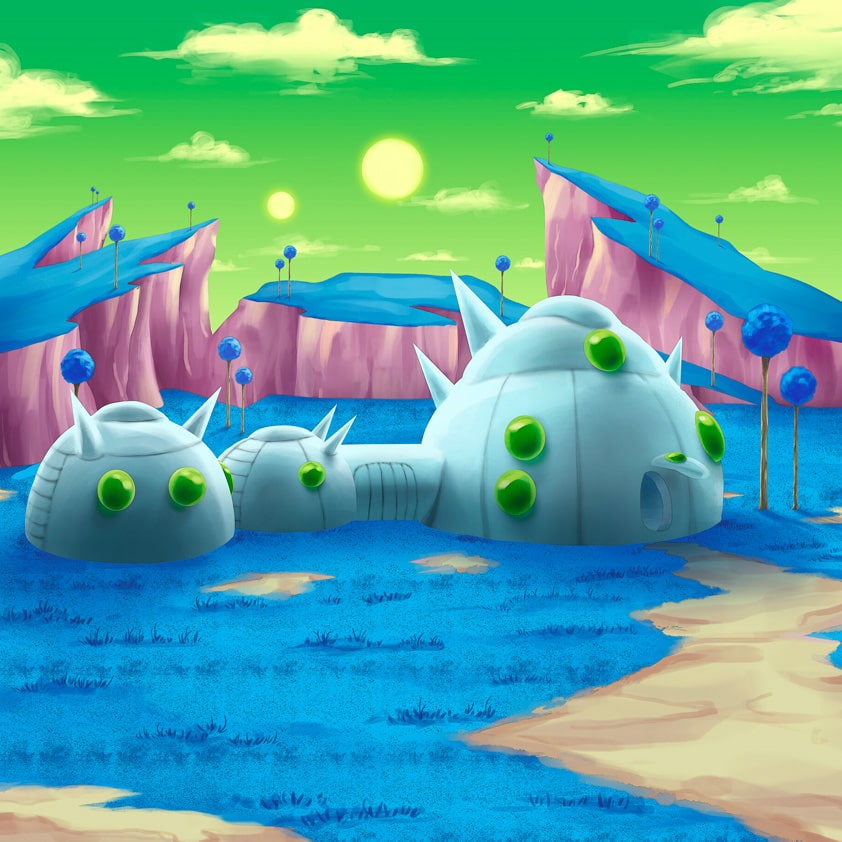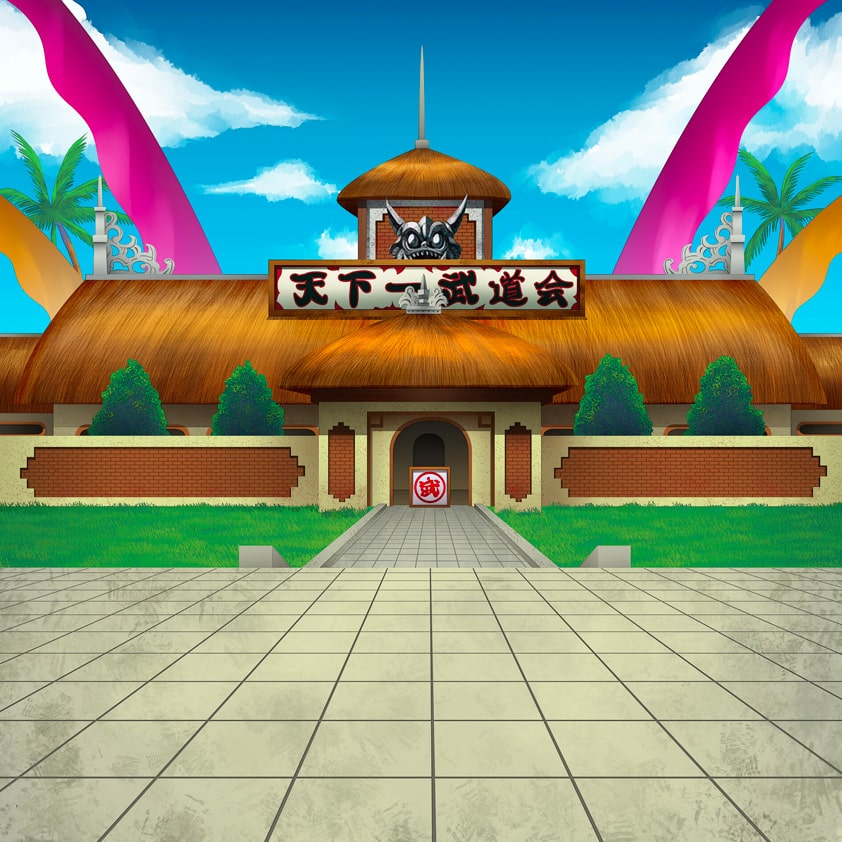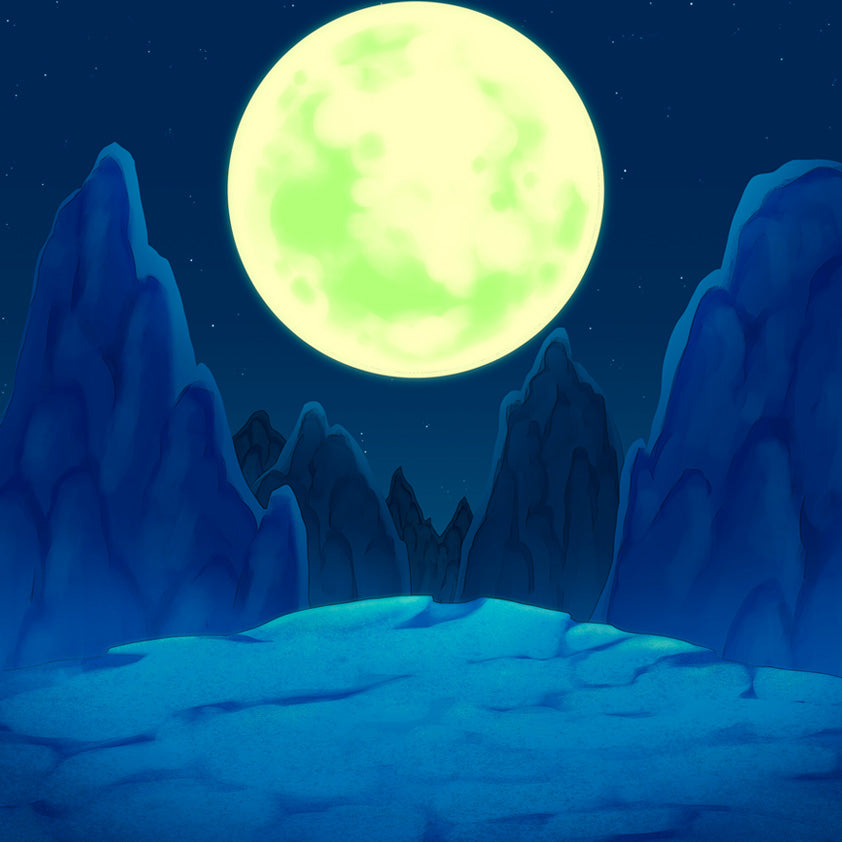 Custom Dragon Ball Portrait
---
---
Personalize your Dragon Ball Drawing

Have you ever wondered what you would look like if you were a Dragon Ball character? Would you rather be part of the villain camp like Piccolo, Vegeta or Frieza? Or would you be a super warrior like Goku or Son Gohan?

At Cartoon Toi , we make you join the adventure of the Warriors for a lifetime thanks to the personalized Dragon Ball portrait . This is the opportunity to finally make an original gift for a birthday, Father's Day or Christmas.

So quickly send us your favorite photos and our artists will transform you into character of Dragon Ball like a mangaka . You'll feel ready to join the ranks of legendary fighters in the Dragon Ball universe!

🪐 Immersion in Namek

With Cartoon Toi, it has never been easier to make your custom portrait in Dragon Ball mode. You just have to send us your most beautiful photos, whether as a couple or as a family. Our cartoonists, lovers of manga, will propel you into the world of Akira Toriyama with the stroke of a pen!

But expect more than just a transformation. You decide everything. Do you want to have your romantic portrait taken in front of the Kamehouse or pose proudly in front of the Capsule Corp with your friends? Everything is possible with Cartoon Toi!

And because we want your portrait to be legendary, we leave nothing to chance. If you have a special tattoo or a favorite accessory, we make sure to integrate them into your portrait. So, get ready to see your image blend into the Saiyan world in an unforgettable way! Embark on Namek and find your place among the legends of Dragon Ball Z.

🎉 An original gift idea

We all have a story, magical moments, memories engraved in us linked to DBZ. Why not celebrate them? With the Dragon Ball portrait, bring these memories to life by transforming them into a unique and original work of art.

Are you in a relationship and Valentine's Day is coming? Why not finally give your other half an unusual gift? As for these unforgettable moments experienced with friends, why not immortalize them in an equally memorable way? And when Christmas comes, why not replace the traditional family photo?

This year, show originality and surprise your loved ones with a personalized Dragon Ball Z portrait that they won't soon forget! Giving a Dragon Ball portrait is giving a unique and timeless gift. Nothing beats the surprise and joy of a loved one discovering their own face transformed into Vegeta , Goku or Gohan .

The Dragon Nall painting represents much more than a simple drawing. With exceptional print quality, it's a memory that lasts. Every time you look at it, it will remind you of special moments. Making a gift as unique as the Dragon Ball Z portraits means choosing to stand out with a memory that will remain engraved forever.

🖼️ Versions of the Dragon Ball Portrait

Once your order is validated, you will receive a preview of your portrait by email within 48 hours. If you are not completely satisfied with your illustration, our team will offer you touch-ups . And as our customer service makes your satisfaction its priority, at Cartoon Toi each touch-up is free .

Let's now move on to choosing the version of your Dragon Ball Z portrait:

In the digital age, you have to stand out. With your Dragon Ball Z portrait in digital version, shine on social networks with a tailor-made avatar, just for you! In HD quality, you can also use it as wallpaper for your phone or computer.

The ultimate gift idea for Christmas, a loved one's birthday or Father's Day. It's not just a mug, it's a personalized work of art, a reflection of who you are. For your morning coffee or your evening infusion, the Dragon Ball mug reminds you, with every sip, that you are truly unique.

Personalize your interior decoration with the Dragon Ball poster in A3 format. This explosion of color is the centerpiece that will bring a personal dimension to your room. With crisp, careful printing on quality matte paper, each Dragon Ball caricature offers excellent value for money.

Each natural wood frame is carefully chosen to enhance your drawing. It fits harmoniously into every corner of your home, bringing a touch of elegance. Ideal for Father's Day or a birthday, the Dragon Ball portrait adds that personal touch. Your Dragon Ball painting becomes a unique decorative piece!

💥 Transform into a Super Saiyan

Add the personalized Dragon Ball portrait to your manga collection. With Cartoon You, you don't just watch your favorite manga, you become a character in your own right! Imagine fighting alongside Goku and Vegeta in the most iconic locations on Namek.

The personalized Dragon Ball drawing is more than a simple illustration. It's a unique representation of yourself, merging with the Saiyan universe. Whether to immortalize a special moment or surprise your loved ones at Christmas, it's the ideal gift for DBZ fans.

So quickly go to our online store and send us your favorite photo to transform it into a work of art in the style of Dragon Ball. Adventure awaits you!
🖼️ Frame and Poster:

Development: Our personalized portraits are drawn by hand
Poster size: 29.7 x 42 cm (A3 format)
Paper thickness: 0.26 mm
Paper weight: 189 g/m²
Origin of paper: Japan and Latvia
Frame composition: ayou wood from renewable forests & Plexiglas front part
Hanging hardware: included
Delivery time: Free delivery within 7 working days

☕ Mug:

Composition: Ceramic
Cup dimensions: 9.6 cm high x 8.2 cm diameter
Care: Dishwasher and microwave safe
Origin of the cup: China
Delivery time: Free delivery within 7 working days
frequently asked Questions

📸 What type of photos are best for creating a personalized portrait?

Send us your most beautiful photo, sharp and well lit for a perfect personalized portrait!

🤳 Can I send several photos so that you can bring together the people in my portrait?

Of course ! Of course, it is more practical for our artist to have all the people together in the same photo, but you can send us several photos with the people separated and our team will take care of bringing them together on your portrait.

👨‍👩‍👧 I have more than 6 characters to draw, is it possible?

It's possible ! To do this, contact us directly by email: hello@cartoontoi.fr

🐶 Is it possible to add pets in the portrait?

Quite ! This feature is available for Simpson portraits, One Piece portraits, Naruto portraits and Rick & Morty portraits.

🤓 Can I make special requests to the designers?

Of course ! Simply respond to the order confirmation email with your specific requests.

🤔 Do you send a print preview?

Yes, we send you a preview of your portrait before printing, to ensure that you are satisfied with the result. We take care to check every detail to guarantee you a quality product.

🖌️ Are retouching possible on my portrait?

Of course ! Your satisfaction is our priority, so if a detail bothers you about your drawing, we will rework it so that it is perfect for you! Plus, portrait retouching is free! 2 touch-ups max.

⏰ What are the production and delivery times for my portrait?

Our artists generally produce your portrait within 48-72 hours after ordering. You will receive it by email within this time frame.

For personalized poster and frame portraits, add 5 to 7 working days to the above production time for printing and delivery.

We strive to respect our usual delivery times, but in the event of an overload of orders, these times may be extended. We thank you for your understanding and we undertake to provide you with your portrait as soon as possible.

🚚 What are the delivery costs?

Delivery is free for all portrait orders.

📏 What are the dimensions of the personalized portrait in Poster and Frame?

All our portraits, from the Personalized Simpson Poster to the Personalized One Piece Frame, are printed in A3 dimensions (29.7x42cm).
In our eyes, this is the perfect format to make a beautiful wall decoration!

🖨️ What materials are used for the Poster and Frame?

Our posters are printed on high-quality matte photo paper, so the print will last a lifetime! As for the framed portraits, these are made up of an elegant black-stained natural wood frame, ideal for decorating your room.

🎁 For what occasions should you offer a personalized Cartoon Toi portrait?

The personalized Cartoon You portrait is the perfect gift idea for birthdays, Father's Day or Mother's Day, Christmas, Valentine's Day, etc.
It's also a good way to please a loved one who is a manga or anime fan!

👀 Do you have any examples of previous work I can view?

Yes, we invite you to take a look at our Instagram page !

🌎 Do you ship internationally?

We deliver throughout the European Union!

❌ Can I cancel or change my order after placing it?

As we spend several hours drawing each portrait, we cannot refund your order. On the other hand, as mentioned previously, retouching of personalized portraits is offered, to guarantee you the perfect personalized portrait!